4-A2 2022-2023 1st
&

2nd Vice District Governors
1st VDG Christy Kroell
Lion Christy Kroell is the spouse of PDG Al Kroell, son of PDG Judy Arribere Woolley. Christy was born in Manila, Philippines. Her father Sal Arevalo (deceased), and her mother, Ching Arevalo is still residing in the Philippines and were former Charter members of Squaw Valley Mountain Lions Club. Christy has 3 brothers. Christy graduated in 1984 from the Philippine Women's University with a Bachelor's Degree in Interior Design and in 2015 earned 2 Associates' Degrees in Business Accounting at Reedley College. Christy lives in Squaw Valley, CA and she owns a small laser engraving business that won 2 National Awards and is very proud of the "Sargent Shriver Achievement Award for Veterans Serving America." Christy loves to sing, dance, play musical instruments, outdoors, workouts, crafting, crocheting, knitting, and gardening. Christy joined Fresno Host Lions Club in August of 2005. Christy has held numerous offices at the club and district levels. Christy is a Progressive Melvin Jones Fellow, Lifetime Member of Lions Eye Foundation, became an Advisor since 2012, Trustee, now Lead Trustee for District 4A2, a Helen Keller Fellow and also she is a Harry J Aslan Fellow. Christy and Al brought the Diabetic Youth Foundation/ Bearskin Meadow Camp to the District after attending the Lions Club International Convention in Seattle. Christy attended numerous Lions Club International Convention MD4 Conventions/ MD4 District meetings, District 4A2 Conventions and District meetings, and USA/Canada Forums. Christy has been honored with awards too numerous to mention. Christy is passionate in giving back to her community and others. Christy is proud to be a lion and always there to SERVE others. "WE SERVE" "
"Be the Change: Keep Trying, Keep Moving, Keep Inspiring"
38207 Shorewood Lane, Squaw Valley, CA 93675
C: 858-229-7002
E: [email protected]
2nd VDG Cheri Provancha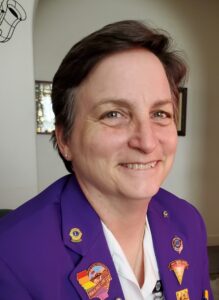 Lion Cheri Provancha was born in San Diego and raised in La Mesa, CA, and attended high school and college in Windsor and Fort Collins, CO.  She joined the US Army through the ROTC program at Colorado State University in 1984.  She retired at the rank of Colonel after serving 30 years in uniform which included five combat tours.
Lion Cheri currently works for Community Health System as a service line Vice President for Supply Chain, Clinical Engineering, and Security.  Previously she worked for Kaiser Permanente as an Area Director for Supply Chain in the Central Valley of California.  Lion Cheri believes in lifelong learning and actively pursues opportunities for growth.  She holds a Bachelor of Science in Psychology from Colorado State University, a Masters of Public Administration from Golden Gate University, a Masters of Strategic Studies from the US Army War College, and a Doctorate of Business Administration in Management from Northcentral University.  Lion Cheri has been with her life-long friend and partner Lion Diana for 32 years.  When the Defense of Marriage Act was overturned in 2013, they were finally able to marry.
After retiring from the US Army, Lion Cheri sought out a way to be in further service to her community.  The Visalia Pride Lions Club offered her a home for her to pursue her passion for service.  Lion Cheri and her spouse Lion Diana joined the Visalia Pride Lions Club in 2014.  She has served as Club President, Zone Chair, Region Chair, and the District's Cabinet Secretary for the past three years.  She is a Certified Guiding Lion and a graduate of RLLI.  During her tenure as Club President, she led the club in service to be recognized by MD4 as the Club of the Year in 2016.  While Zone Chair, she brought the zone clubs together to provide a "Book Nook" for a housing project sponsored by Self Help Enterprises.  This past year, she was recognized as the District Lion of the Year and is a Melvin Jones Fellow.
Lion Cheri's passion is service.  She is dedicated to serving her community and leading Lions in service.
3403 W. Perez Ave., Visalia, CA 93291
H: 559-733-0720; C: 360-970-3642; E: [email protected]