4 A-2 2019-2020 1st
&

2nd Vice District Governors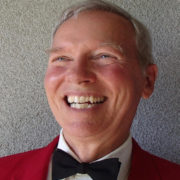 1st VDG David Beeman
Back in 1986 when he was still in the US Air Force in Wichita, Kansas, David Beeman was invited to join the McConnell Air Force Base Lions Club.
He transferred to the Bakersfield Breakfast Lions in 1987. That club introduced him to board action, visitations to other clubs and the District 4-A2 New Member Recognition Night.
In 1988 he and wife Vicki moved to Hanford and he transferred to the Hanford Breakfast Lions Club. In that club he has held all club offices except Tail Twister. Lion David has also served District 4-A2 on various Committees and boards. Lion David served a three-year term as Global Leadership Team Coordinator for DGs Anthony Martinez, Craig Cooper and Al Kroell and didn't get fired.
Lion David's other community service activities have included the American Cancer Society, the YMCA of Kings County, the Hanford Tree Commission, and the First United Methodist Church in Hanford, where he has also taught youth and adult Sunday School classes. He has been a Volunteer Income Tax Assistant for four agencies during ten tax seasons. He reads for Story Time at the library in Hanford about once a month and schedules volunteers for other Story Times. He also gives guided tours as a docent at the Hanford Taoist Temple for the China Alley Preservation Society. He has taken the stage with the Kings Players for five local productions.
Lion David and PDG Vicki have been married since 1977. She grew up in Lapeer, Michigan and he in Escalon, California. David holds a Bachelor of Science degree from the USAF Academy (1975), and a Master of Arts degree from Webster University of Webster Grove, Missouri (1985). He earned a California teaching credential from Cal State Bakersfield in 1988 and taught elementary school in Hanford for twenty years.
In his spare time, he enjoys swimming, bicycling, genealogy and quiz shows.
942 Birchwood Court Hanford,CA 93230
H: 559 584-2911 C: 559 584-7510
E: dpbeeman@yahoo.com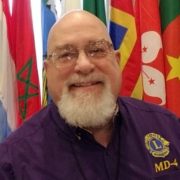 2nd VDG Dave Hamilton
Second Vice District Governor Lion David Hamilton was born in East Los Angeles and raised in the North Hollywood/Sun Valley California area. He enlisted in the U.S. Army during Vietnam. While serving in Germany in a combat engineer unit and on the East Coast of the United States in "the Army's Navy" Lion David learned the worth of education and upon his release from the Army in 1975 continued on a journey that would lead to a Juris Doctrate degree and a career as an attorney.
Lion David joined the Lions as a charter member of Visalia Sunset Lions in 1996. Due to a job change, Lion David left the club in 1999 but returned in 2012 and has served as 3rd, 2nd, and 1st Vice President, then finally President of Visalia Sunset Lions. The club awarded him the Harry J. Aslan Fellowship for his leadership as Club President 2017-2018. He has also served as District 4-A2, Zone 3 Chair, Central Region.
In September 2015, Lion David was awarded the "Bachelor's Degree" through Lions University at the USA/Canada Leadership Forum in Grand Rapids. He completed the "coursework" for the Masters degree in 2016 and in January 2017 was awarded the Lions Masters degree at the USA/Canada Leadership Forum in Portland.
Lion David has served on the boards of Legal Aid Services of Shasta County, Kings County United Way and Living Water World Missions Board, an organization dedicated to building clean water systems. He also served as a team Captain in the Shasta County Red Cross, President and Vice President of Tulare County Public Attorney Association and was a founding member of the Central Valley Chapter of the National Lawyers Guild.
Lion David has been married to his wife, Lion Gloria, his life-long friend, for 47 years and they are blessed.
2703 S. Encina St. Visalia,CA 93277
H: 559 802-3334 C: 559 308-1810
E: davster13@hotmail.com
District 4 A-2 Lions
3112 S. Mooney Blvd Suite A
Visalia CA 93277
Contact
Cell 559-909-1817
Office 559-733-4829
Fax 559-733-1720