DG District 4-A2 (2017-2018)
Slogan: "We-Serve with Love, Care, Respect & Peace!"
Lion Kevin holds a Bachelors in Science (Chemistry & Physics), Bachelor in Music (Indian Classical – Vocal) Post Graduate Diploma in Business Administration and Marketing Management Diploma in Computer Applications & in Music, Hospitality Management, Bachelors & Masters of Lions from Lions University. He is a Poultry & Feed Manufacturer, Restaurant Owner & Chef –Works for Long Term Care-Ombudsman – California State Department of Aging for Kings & Tulare Counties & Class A Interpreter for State & Federal agencies and working with other private companies around the USA, interprets about eighteen Indian origin languages spoken around the World.
He is member of Lions Clubs International for thirty-seven years joined as a Leo, had various leading
positions held within the club, Zone, Region & District like Tail-Twister, Lion Tamer, Board Of Director, three – times club Secretary, two times Club President, 3 – times Zone Chair, PRO International committee, 2nd VDG, 1st VDG and is Regional Coordinator for USA/Canada Leo Leadership Foundation for Region A (California & Oregon state) & for Multiple District-4 position as a Dancer and MD-4 Committee member as DG for Global Membership Team. He has visited approx. more than 700 clubs around the World, exchanged about 195 friendship banners and couple thousands of lion pins & other lion items, attended 15 International Conventions and have performed at 4 LCI Convention in International Shows, about 51 District Conventions in home district and internationally, 11 Multiple Conventions, 9 Area Forums in different parts of the World & had various trainings like from MERLO(in one of the first batch), graduate from ALLI, Chicago, IL and is preparing for the Doctorate in LIONS, Recipient of Three International President Certificates, Three International Presidential Awards, Multiple District 4 Excellence Award, 3 times Best Secretary, two 100% Club President, 2 times Best Zone Chairman, Overall Best District Chairman, Lion Of The Year, MJF, Harry J Ashlan Fellow & several others from Zone, Region & District.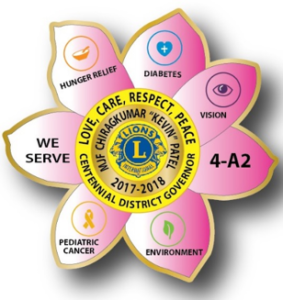 Lion Chiragkumar "Kevin" Patel is a LIFE Member of Lions Clubs, member in Hanford Breakfast Lions Club. He is LIFE member of Nature and Cub's Club, loves music, Dance, Cultural activities and traveling, take care of Elderly Homes, Reading, Poetry, promoting LCI, practice motto– "We-Serve" with Love, Care, Respect & Peace. Almighty Lord Krishna graced happy Hindu family firm believer in humanitarian services, wife Lion Falguni Patel is currently serving as Region Chair for Western Region & is member for 20 years & owns Indian restaurant & both are Chefs. They are both MJF and Harry J Ashlan Fellow. Blessed with three children: Two daughters Lion Shriani – Charter Secretary at UCR campus Lions Club, District 4-L5 & second in High School Leo Mannati is Hanford Leo President and Charter Treasurer of Leo District 4-A2 & Son Leo Dev in High School is Secretary for Hanford Leo Club. Family blessed by loving parents who always support, motivate & bless all the times…We truly believe in "Where there's a NEED, there's a LION!"