Bearskin Meadows Diabetes Camp For Kids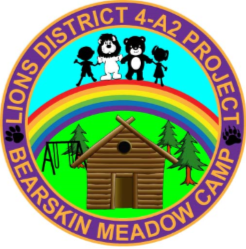 Bearskin Meadow Camp is one of the oldest and largest resident camps for children, teens, and families affected by Type I Diabetes. The camp is located in the Sequoia National Forest, 65 miles east of Fresno, California at an elevation of 5,800 feet. Each summer the camp welcomes approximately 800 participants. Bearskin Meadow gives campers and parents a uniquely supportive community of peers and adults who truly understand the day-to-day challenges of living with diabetes. District 4-A2 has a committee in place to direct funds and Lions activities to support Bearskin Meadows. The district requested and received an LCI grant in 2015 to assist in improving the grounds, cabins, and community spaces. There is always a need for donations and volunteers.
Work Weekend Open Camp:
Memorial Day Friday – Sunday
For more information call
Chair PDG Judy Woolley
C: 559-916-2521 E: [email protected]
Walter "Van" Van Caster Fellowship
When you support the camp with a generous donation of $500 or more, anyone can receive the Walter "Van" Van Caster fellow certificate, a plaque, and a beautiful pin. This is a tax-deductible donation that any individual or business can donate or if you would like to honor a Lion from your club.

For more details or fellowship
application details contact:
PDG Lion Dr. Chiragkumar "Kevin" Patel
C: (704) 267-9583
E: [email protected]