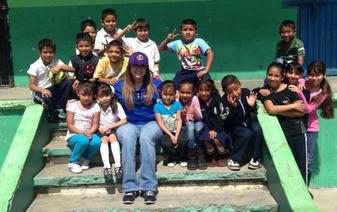 Buneos dias a los Leones de Distrito 4-A2…wait, let me hit the SAP translation button on the keyboard…Greetings to my fellow Lions of District 4-A2!
It's about that time of year again. With the holidays behind us, it is time to start saving a little money and making sure your passport is valid. Yes, it's time to start preparing for our annual trip to Ensenada, Mexico!
The Operation Friendship Committee is officially inviting each of you to join us in our annual hands-across-the-border mission with the Leones de Ensenada. This year's trip is in memory of Lion Carlos Avila Escoto. This will be the 57th annual visitation to Ensenada and the Committee is excited to be heading down south once again.
As you know, the primary mission while we are down there is to offer aid to the students of one of the local schools. Again, the plans are to serve both a morning and afternoon session of students while at the school. There will be a health clinic again with services ranging from eye exams to medical and chiropractic services. For those that don't find work volunteering with the health clinic, there are always smaller cleaning and landscaping projects that need some Lion attention.
Here is some more good news, the host hotel Villa Marina Hotel has offered us great rates with a few different room options to choose from.
Time to hit the SAP button again…yo te prometo que vas a pasar un buen tiempo, vas a tenar experiencias que nunca vas a olvidar (I promise you a fun time and experiences you will never forget).
Sounding like fun?
Check out the Visitation and Hotel Registration Forms here!
2019 Operation Friendship Hotel & Bus Reservations(1)
You can also check with your Club Secretary as the Committee reaches out to each club either by mail or in-person, dropping off registration forms and raffle tickets.
Time for the donation pitch… 🙂
100% of all donations will be used to purchase the specific items requested by the School Administration of Benemerito De Las Americas School in Ensenada and based on our on-site needs assessment.
Please designate your contribution below:
Platinum Level: Sponsor 10 feet of security block wall (50 feet needed) $1,500
Gold Level: Sponsor annual school supplies for one classroom for $1,300
Silver Level: Sponsor annual school supplies for 10 children for $500
Bronze Level: Sponsor annual school supplies for 1 child for $50.00
Donation Form Attached Here
2019 Operation Friendship DONATION FORM
2019 Operation Friendship Program