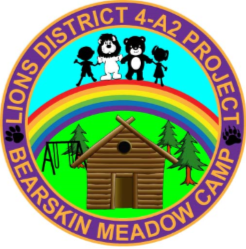 It takes a lot of work to get Bearskin Meadow Camp ready for the summer! If you are ready to work hard and get a little dirty, please join us over the Memorial Day Weekend (Saturday, May 26th-Monday May 28th) to prepare Bearskin Meadow Camp for our 81st summer.
Bearskin Meadow Camp is one of the oldest and largest resident camps for Children, teens and families affected by Type I Diabetes. The camp is located in the Sequoia National Forest, 65 miles east of Fresno, California at an elevation of 5,800 feet. Each summer the camp welcomes approximately 800 participants. Bearskin Meadow gives campers and parents a uniquely supportive community of peers and adults who truly understand the day-to-day challenges of living with diabetes. District 4-A2 has a committee in place to direct funds and Lions activities to support Bearskin Meadows. There is always a need for donations and volunteers.
One change from last year is that we are doing Saturday (10am) – Monday (3pm) in order to get more people attending. Please do not come outside of that window, as we will not be ready for you nor will we have meal service.
The registration link is below; PLEASE make sure all members register ahead of time.
As a reminder, BMC is always an alcohol, drugs, and tobacco-free zone; use or possession of any of these items will not be permitted.
For more information call Committee Chair:
Judy Woolley, PDG
559-916-2521
E-mail: judyarribere@aol.com